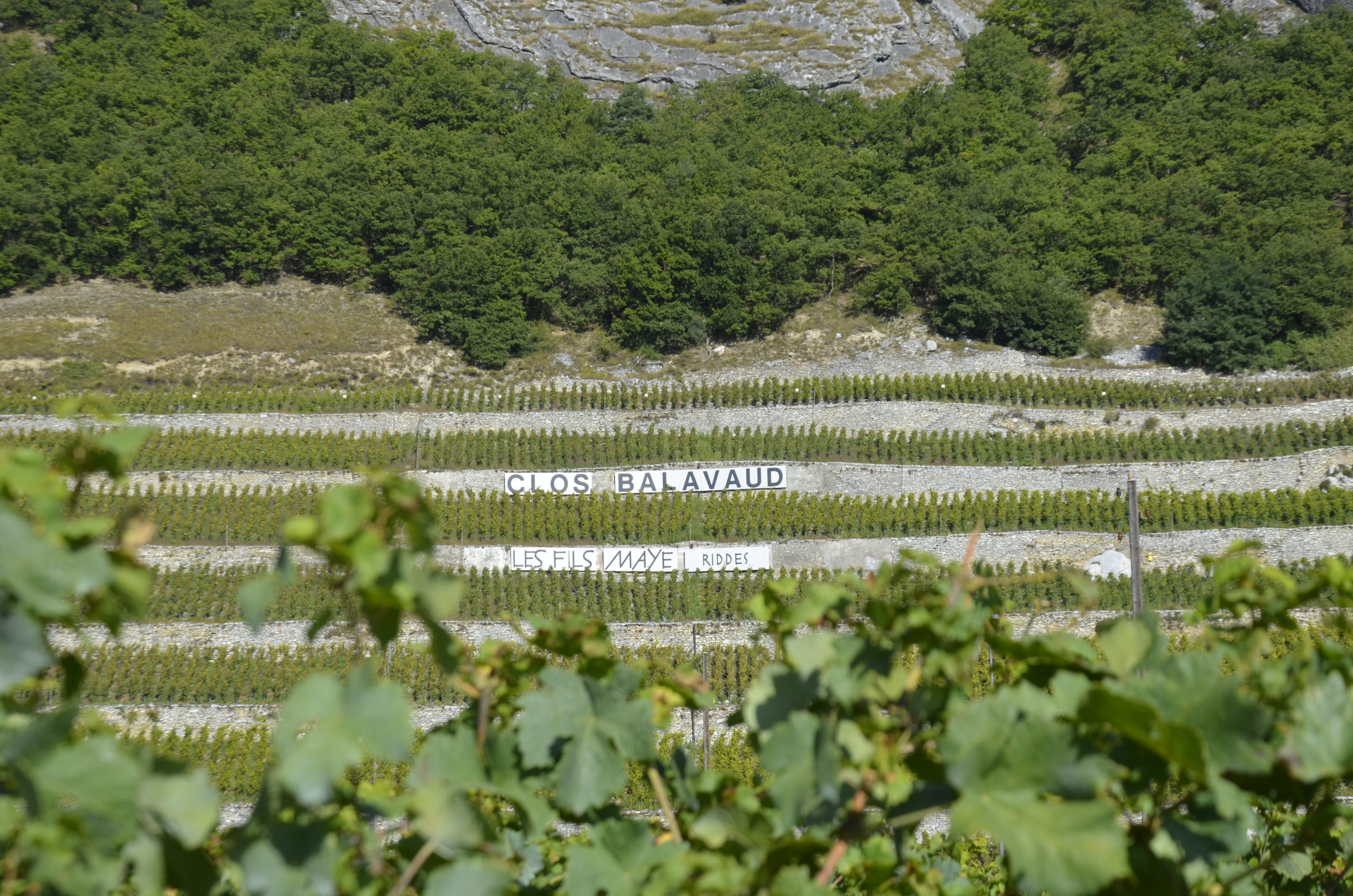 Competence, transparency and corporate responsibility
MAYE's expertise ensures the long-term viability of the company.
The development strategy is planned on the basis of regularly assessed objectives for continuous improvement. Traceability of operations is guaranteed. Employees are informed of the company's sustainable approach and are involved in achieving its objectives.
Product quality and value
Product quality and diversity are the pillars of sustainable, dynamic viticulture.
MAYE has set up a vineyard monitoring system from plot to cellar, using software developed in collaboration with an engineering firm specialising in geomatics, civil engineering and rural engineering (Geo2rives/Riddes). Cellar software is also used to track wine from grape cluster to bottle, guaranteeing product traceability.
A modern bottling line de-aerates the bottles to preserve their aromas. Hygiene and food safety are ensured by an optimum low-temperature cleaning system.
The use of nitrogen in the bottling process offers the added advantage of rapid time-to-market, with full respect for the meticulous work of our winegrowers and oenologists.
The company is also attentive to consumers and their expectations.
Préservation et gestion des ressources naturelles
Precious resources such as water, soil and air are used with constant concern for their preservation. Water use takes into account local availability, and controlled consumption limits the negative impact on water tables and rivers.
MAYE has installed a drip system on its vineyards. Knowledge of soil characteristics is essential to limit the risk of erosion and maintain optimum organic matter and fertiliser levels, ensuring the sustainable production of quality grapes. The use of machinery is also carefully controlled to limit soil compaction, noise pollution and air pollution.
Rational management of inputs, waste and runoff
The choice of materials, equipment, production inputs, winemaking and packaging materials is made with consideration of their impact on human health and the environment. Recycling or reuse of farm by-products is encouraged. Waste is stored in the safest possible conditions before being recycled or disposed of in appropriate facilities.
Sustainable energy management
Energy consumption is optimised. The use of energy sources contributing to greenhouse gas emissions is limited and renewable energies are favoured. Monitoring the energy consumption of machines, buildings and production techniques enables consumption reduction targets to be set and effective savings measures to be implemented.
In this context, MAYE replaced its oil-fired boilers with a heat pump system for heating and cooling the premises. This equipment saved 58,000 liters of fuel oil per year, equivalent to 492,000 kWh of energy.
Also, the old compressors, which represented almost 40% of MAYE's electricity consumption, were replaced by a single latest-generation compressor with variable start and optimised running time. The estimated saving is 87,500 kWh.
Preserving landscapes and biodiversity
The impact of winegrowing on the landscape is taken into account when developing vineyards or constructing farm buildings. The diversity of plant and animal species in the vineyards and in the biotopes adjacent to the farmed plots is preserved and promoted. Ecological structures and landscape features that should be protected on the farm are preserved.
Respect for the health and safety of employees
The employer commits to respecting the standard contracts in force with regard to working conditions. Salary conditions are known to employees and there is no discrimination. The work safety rules are known to the employer, who ensures that they are applied and who properly informs employees through appropriate channels. Ongoing training and personal development of employees is encouraged.
The company's socio-economic involvement
The integration of the company's activities into the local social and economic fabric and the cultural dimension of product-related activities are taken into account and form the basis of the identity of the winegrowing business.